Boost Your Social Media Presence With Awesome Images
Written on
The PixTeller story started a few years ago, in 2015. The original platform was initially limited to picture quote maker, that people used mostly on social media, to share their thought, feeling and impressions.
Now, PixTeller has overcome the other existing design tools through innovation and creativity, mainly highlighted through design thinking & artistry templates to help people get inspired. And as we all know, for us people change is hard to start, a little bit messy in between, but brilliant at the end. This being said, we also met reluctance on the way, until people started to understand and embrace the new amazing features and functionalities of the new platform like the new animated gif maker or banner maker.
Want to know how you can design graphics for any type of images for social media campaigns? Make your first step and start building personalized graphics in the shortest & easiest possible way with PixTeller photo editor.
1. Identify a design you want to use
Don't limit your options to the "Use" function on templates! With PixTeller you have the possibility to use any public design that has been created by our users in public mode.
Isn't that great? Just pick up your favourite graphic, use and personalize it with any of our graphic editor amazing features. You can replace anything, add as many new elements you want and save, download, share or print.
Here's your starting point, now let's get creative!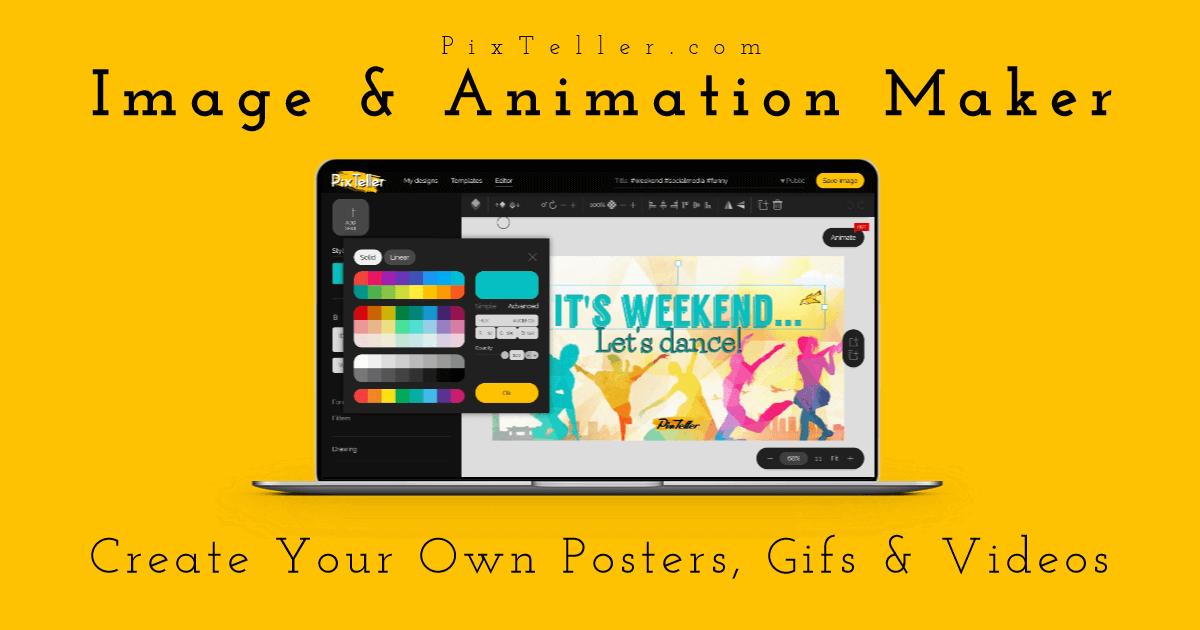 2. Be creative
Creativity goes hand in hand with experimenting! - Make the most out of PixTeller features and create smart engaging images in no time.
Easily convert a Logo into a Poster or a Poster into an Invitation and more, just by changing colors, sizes, shapes, editing photos or text with the best online design editor tools available online like. So, don't panic if you haven't found the perfect Template or a Public Design! With our customizing options you can surely add that personal touch to any graphic. :)
3. Learn the Editor basic functionality
PixTeller photo editor and animation maker tool has a lot of functions, filters and effects. You can easily set your elements dimensions and position and to start you only need to know:
Set you design size

You will find this option under the 'Page Properties' section on the right side of the Editor page, which will open anytime you click on 'Use' on any design. Also, you can use Preset size and even more, the Smart resize function, that will automatically change your design elements properties according to the dimension you chose.

Select and Replace any element

Click to select any element from the canvas and use the replace button from the right section, regarding the element type selected. We encourage you to play with our editor features starting from one of our many pre-made templates, select any elements (eg: Images, Shapes, Text) and easily replace them.
Considering all the above, I'm sure we agree on the fact that with PixTeller anyone can quickly create unique images for social media, like quote pictures, posters, banners, photo collages, invitations and many more.
We hope this article has helped you! If there is anything, we can do for you so you can use the PixTeller design tools at its maximum power, feel free to contact us.
Until next time, Be creative! - Pix'sTory made by Alex